GET A QUOTE
We Save as one
Clean, green and renewable energy -- this is the core philosophy and mission that UNISOLAR, INC. is founded on. The technology and training required to make possible the development, engineering and delivery of solar powered products and services to every Philippine commercial, industrial and household sector is a paramount fulfillment that UNISOLAR, INC. endeavors to support and focus on.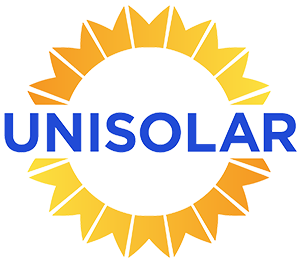 UNISOLAR, INC. is a Philippine based SOLAR ENGINEERING, PROCUREMENT and CONSTRUCTION (EPC) company engaged in design, global sourcing, sales, installation and commissioning of quality and environment-friendly solar powered systems and products that have now become an alternative to conventional electric power generation.
UNI SOLAR, INC. was established in December of 2007. Its owners were inspired by the vast potentials, economic values and benefits of renewable energy particularly SOLAR ENERGY with its applications for commercial, industrial, and household use.
KNOW MORE
Roof Mounted Solar Grid Tie System
1. To reduce your monthly electric bill.
2. To earn a great return of investment.
3. To hedge against rising energy cost.
4. To protect the environment.
02
We're here with you each step of the way
1. Contact
2. Quotation
3. Contract Signing
4. Installation
5. Solar Panel Activation
The work we do.
Design & Installation
Whatever your requirements or limitations are, we will be able to design and create a custom-made and functional solar power system. Allow us to help you experience solar power today.
Along with our quality products, we also offer our installation services.
UNISOLAR, INC.
Unit 203 No. 71 P. Tuazon St. Cubao,
Brgy. Kaunlaran, Quezon City, 1109 Philippines
(632) 8725 1453 | 09771030297
[email protected]